Dome XIII
Dome XIII is in danger…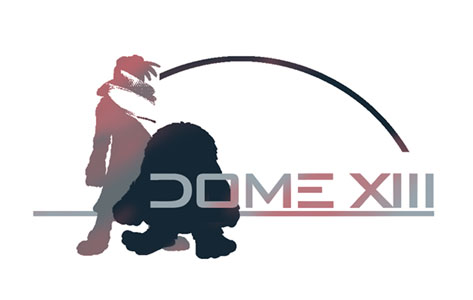 The scorched earth of Zaheerah is no place for life to prosper. Man has forced his way onto the landscape with gargantuan glass structures housing great populations under their domed ceilings. In one such place evil is taking hold, bringing turmoil and pain to those who should be protected.
Across the red desert a lone warlock speeds straight into the unknown with a simple wish…to find his sister. In his way is a crazed tyrant who craves nothing but power and will stop at nothing to get it. Race Meridian must find allies and fight back the evil tide if he is ever to see his wish come true.
Features of this game include; 3D environments, real time weather conditions, pre-rendered sequences, a unique battle system, real time physics and AI.
Dome XIII was Psync's first completed game. It was made using MacroMedia Director to build a game engine, whilst the characters and scenes were produced in Maya. Dome is an educational game where the player has to navigate around 3D environments and answer difficult questions to progress to the next level in order to continue the story. The game has some elements of a classic platformer, but the key emphasis is on learning.
Dome XIII was a university project and therefore had a strict deadline. This project was finished within 4 months which included a detailed dissertation about the game.
Screenshots
Videos
Audio
Audio clip: Adobe Flash Player (version 9 or above) is required to play this audio clip. Download the latest version here. You also need to have JavaScript enabled in your browser.
Credits
Jim McDonald
Programming
Story
John Thompson
3D Modelling
Animation
Music
Script
Spike Holmes
Character Design
Texturing
Artwork
Music
V.S.
Additional Programming
Texturing
Maths
Cast
Race Meridian / The Governor – Spike Holmes
Sky Meridian – Linda Mann
Mute / Mergs – John Thompson
Guard - John Townley
Mr Alien - V.S.